Stonesthrow artist Mayer Hawthorne was performing at The Continental Room on June 16, 2009 so I decided to head out to the opposite side of town and check out his live show. The sometime dj, sometime singer, was performing with his band, The County, a selection of songs from the forthcoming album.
This was my first time at the Continental Room. Definitely a good spot for drinks, but an interesting spot for a show, considering the size of the venue and size of the crowd. The lighting definitely added to the mood, as did the many female fans attracted by this rising artist.
Here's a sample from Mayer Hawthorne and the County at the Continental Room on June 16, 2009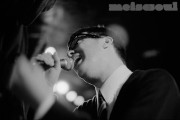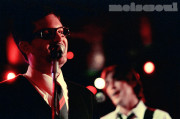 To find out more, check out Mayer Hawthorne's Stonesthrow Profile.
Look out for the album, A Strange Arrangement, in Fall '09 on Stonesthrow (Pre-order online).
Meiso Soul PSA: Just a reminder all images in this set/album are licensed under
... credit the photographer and the website, do not use this commercial purposes (flyer, blogs with ads, etc...), do not alter (crop, resize, vectorize, etc...). Feel free to shoot an email if you have questions about the licensing use.