After catching Or, the Whale shows at various time in San Francisco. I finally was able to catch them with a camera on hand, this time at the Silverlake Lounge in Los Angeles on March 12, 2009. Check out the photos of this 7 member band as their tour passes through Los Angeles on their way to SXSW 2009 in Austin, Texas
The main difficulty shooting this show was mainly due to switching spots with 2 other photographers and not feel like a "spot hog". Overall I think the choice of film and development process fit the look I wanted to go for with the overall scene. I would had like to get better shots of drummer Jesse Hunt, bassist Justin Fantl and Tim Marcus on pedal Steel. I guess that leaves a more concious effort the next time Or, The Whale runs its way through Los Angeles.
Here's a sample from Or, the Whale at Silverlake Lounge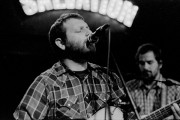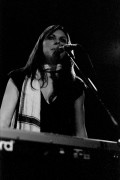 If you would like to find out more about the band, Or, the Whale website, or the Or, the Whale Myspace page to hear audio samples and check out upcoming concerts.