Chilling with DJ Icy Ice, of the World Famous Beat Junkies and Soul Elevation, at the K-DAY studio . Took some snaps while Ice was mixing during his live on-air set. These were taken at K-DAY studios in mid Wilshire back in November 2006. Definitely interesting checking out the studios.
Interesting note, was that it was one of my first times out with Nikon D200 for non-personal color work. Overall a good learning experience but still couldn't stop the love of low light film photography.
Here's a sample from DJ Icy Ice at the KDAY Studios.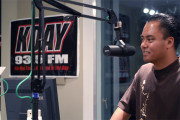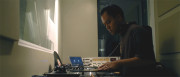 After the show, we headed out to the Divine Forces radio show, hopefully I'll get around to those photos sometime soon. Until then, enjoy these photos from that night.
For more info about DJ Icy Ice, check out DJ Icy Ice on myspace or listen to Icy Ice spinning on The Rick Dees Morning Show "Rick's Mix" on Movin 93.9 FM or streaming on movin939.com.