Page 1 of 2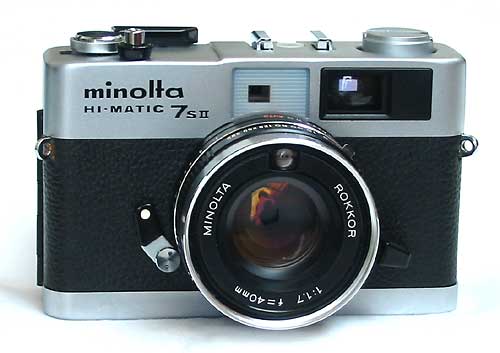 This morning turned out to be a surprising day. Being in Central California (to me at least), I wasn't really setting out to go digging, but I happened across a yard sale. Amid a pile of plastic cameras, a compact metal camera caught my eye. Instead of being the normal broken or acid ridden camera from the 1970's, it actually turned out to be something I had been looking for for almost the last ten years.
For the curious, the camera is a late 1970's Minolta Hi-Matic 7sii a nice fast 40/1.7 lens with automatic exposure, AE. Even though it offers AE, the great plus is that it offers the ability to manually set the exposure (both shutter and aperture) so I can begin shooting without a battery. Obviously the 7sii is findable on eBay, but my goal has usually been to buy these type of compact cameras for under $20. So when I heard a price of $15, I checked out the camera thoroughly and snatched up the Hi-Matic 7sii, along with a couple of records.
From a visual inspection, the cosmetic of the body was easily EX+, minus the plastic piece on the film advance lever which would make this BGN (bargain) cosmetically. But since this will be a user, it's not that much of issue to me as I have broken Hi-Matic with the exact same lever. But most likely I won't go through the trouble. Anyways, the important issues to check with used cameras all checked out. Lens was clean of fungus and scratches. Aperture was adjusting properly. The shutter was snapping appropriately for the corresponding shutter speeds. No oil on the aperture & shutter blades. And the ever important battery was fine. Which I can't say for my thumbnail after opening the battery cover. As for the meters accuracy I won't be able to test until I get a battery.