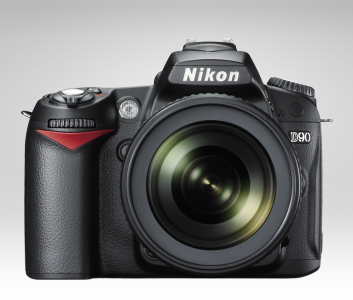 Nikon has announced they will be releasing the D90 DSLR to replace the 2 year old D80. While similar from the exterior, the D90 will sport a 12.9 mega-pixel DX-format CMOS sensor to match the new generation of D3, D300 & D700 DSLRs. Also following suit of these DSLRs, the D90's LCD will increase in size from 2.5-inch to 3-inch. The D90 will also inherit the Live Vew of the other Nikon CMOS DSLRs.
D90 Observation Summary
While still aimed at the serious amateur, the D90 should offer a good bang for the buck for those planning to shoot with only DX-format lenses. The new sensor should offer ISO 6400 quality close to that of the D300. Unless you plan to shoot with older AFD,AF,Ai or Ai-s lenses, ponying up for the D300's other features may not be worth the money.
Main Features Include:
12.9 megapixel DX-format CMOS sensor (effective pixels: 12.3 million)
3.0-inch 920,000 pixel (VGA x 3 colors) TFT-LCD (same as D3 and D300)
Live View with contrast-detect AF
Image sensor cleaning (sensor shake)
Movie capture at up to 1280 x 720 (720p) 24 fps with mono sound)
IS0 200-3200 range (100-6400 expanded)
Other Features Include:
optional compact GPS unit (fits on hot shoe)
Illuminated focus points
4.5 frames per second continuous shooting
Expeed image processing engine
3D tracking AF (11 point)
Short startup time, viewfinder blackout and shutter lag
Slightly improved viewfinder (96% frame coverage)
Extensive in-camera retouching including raw development and straightening
Vignetting control in-camera
72 thumbnail and calendar view in playback